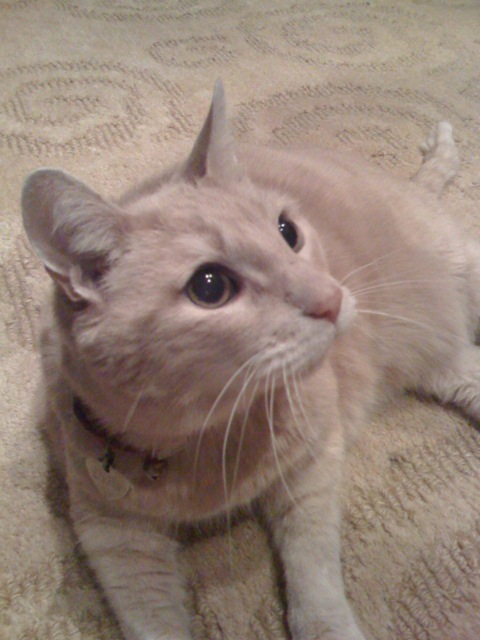 We saddled him with a silly name when we adopted him from the pound in 1998. His previous owners called him Oscar, and his brother, whom we also adopted, was Nerber. We considered almost 100 pairs of names, but every vote of the four of us in the family was a tie. It came down to Rosencrantz and Guildenstern and Champagne and Jaegermeister (part of a family tradition of cat names extending back to my childhood cat, Schnapps). Heedless of the humiliation of having veterinary assistants call out for "Champagne Schindler," I broke ranks and voted with my daughters. Thus, that was the name by which we knew him. I know nearly every cat owner thinks they have the greatest cat in the world, but we actually did. Sweet, even tempered, pleasant and loving: the best cat I've ever owned, and in the honest opinion of vets and friends, a true cat among cats. We had to put him to sleep this morning.

It may be too soon to write his obituary. It is remarkable how you can intellectually recognize the need for euthanasia, then bawl like a baby when the moment comes. My wife was there in the vet's office with me. She is a psychotherapist. While we are, in fact, mourning the loss of a beloved cat, a member of our family for almost half the length of our marriage, his death also brings up the issue of death in general, she told me, which partially explains the depth of emotion; we are mourning more than just our cat, we are mourning the fact of death, the fact that everyone we know will either die before us or after us. Champagne was our feline animal companion, and we loved him and will miss him. We have lost and will lose others, human and animal to death. It is (as noted in the item above), inevitable.

Champagne first got cancer in 2007; we spend thousands of dollars on an operation, after which he was given six months to live. He got five years. The cancer came back. In the last six months, he lost half his weight. A cat year is either four or five human years, meaning Champagne was somewhere between 68 and 85. The vet told us cats start hiding when they feel they are near death. Champagne wasn't hiding yet, but it was only a matter of a short amount of time, and we did not want him to suffer. The thousands of pleasant hours we shared deserved better than that.  He was clearly an unhappy cat. We decided it was time to end the misery.

I have a very confused belief system about life. I am moderately certain we have souls; I am less certain about animals. Are animals people reincarnated? I am open to that possibility. Is there an afterlife? Not as such, I don't think; no wings, harps, clouds. Our essence may return to the universal essence, but I seriously doubt the "me" we know survived the meatbag that carries it around.  I eat meat, which probably means I cannot morally say anything about the treatment of animals; nevertheless, I have owned cats most of my life and I believe I have treated them well. Regardless of whether they are reincarnated souls, it is meet and right so to do. A very good friend of mine reminds me on occasion that this entire life is an illusion, a dream in the mind of  God, and that we are simply play acting. Perhaps it is the same for our animal companions. It is not for me to say. All I know is that the world has been diminished today by a life force that has left it.