***** Five stars out of five stars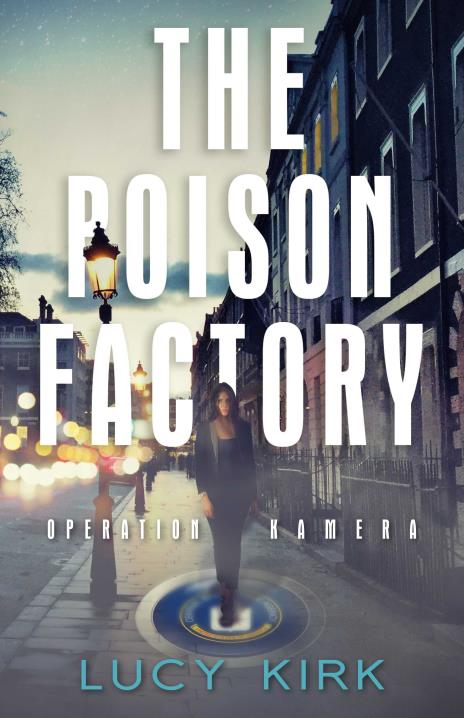 After a half century of avidly reading spy novels, I find, for the first time since my teenage self haunted the newsstand, waiting for the latest episode of James Bond in Playboy, that I am excited about the publication of a new entry into the genre: Lucy Kirk's novel Poison Factory: Operation Kamera. And I mean REALLY new, because the protagonist is not James or George but Decktora "Decky" Raines. Just as I am tired of pale, male and stale in my choice of politicians, I have grown tired of pale, male and stale spy novel protagonists and authors.
So, I would recommend the book solely on the basis of the gender of the author and the protagonist. There are far too few spy novels written by and featuring women.Luckily for both of us, this book would be great even if the author and the protagonist were both named James or Ian.One of my favorite parts of spy novels is their subtle, in-context revelation of spycraft. I don't remember who first introduced me to the term "pocket litter," but it has stuck in my memory all my adult life. It is the pedestrian material such as receipts, keys and cash that a normal person collects in their pockets. Your spy needs a load of pocket litter so that, if captured, their cover story about being a civilian seems plausible.
When I sat down to read this first effort by a neophyte, I wondered how she'd do on the subject of spycraft. I felt a frisson of excitement when "Pocket litter" appeared in the first chapter. Best of all, it's all uphill from there.
For example, if I ever suspect I am being surveilled, I'll check the shoes of the people following me because according to the ex-CIA author of this book, followers often change their clothes and hair, but sometimes neglect to change their shoes.The book is full of delightful touches like that. The Wall of Stars at CIA headquarters, an architectural feature which has fascinated me for years, has a bit part in the story that I found delightfully clever.Poison Factory is thrilling, well-written and satisfying, and touches base with reality just often enough (Litvinenko, Operation Kamera).
I don't use the term "page-turner" often, but I literally found myself unable to put it down. I read it in a single quite-lengthy sitting, because the tight plotting made me want to know what came next, without my usual expedient of reading the last page first.I actually felt slightly empty the next morning, because there was no more to read (yet). I don't often have this feeling about a novel, and I'm not kidding.
SPOLIER ALERT: I can't wait to read about Alex's adjustment to PTSD through the eyes of Decky, who has to deal with his symptoms because she wants to, and her day job because she has to (she's the woman for the job!)